Description
JCG200 is new release glass door lock for glass doors.
Frameless glass doors are widely use in modern office buildings. Do you ever meet the situation that forget carrying the key, or the key holder just not arrive at door in time thus a group of staffs standing outside the door?  Now you dont need to worry with that wit our new door lock JCG200.
The Lock capable for 200 fingerprint users and 1000 card/code users.  Suitable for small to medium office.  All users can set with Access time according to your working time.
Special design of the Lock bolt, able to use on swing door or sliding door. with different type of accessories it will also able to install on framed glass door.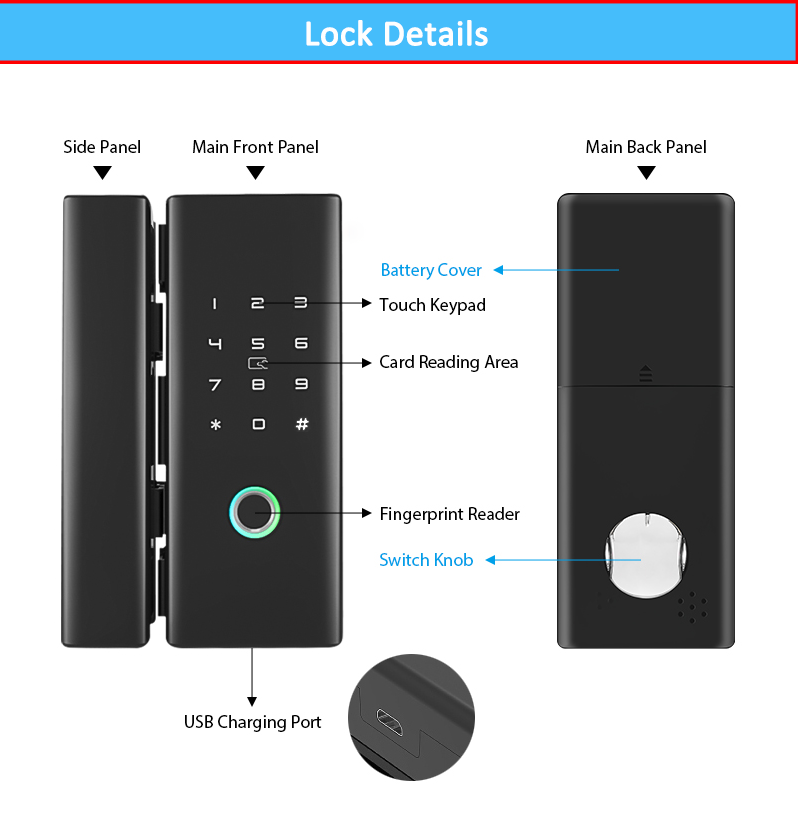 Tuya app remotely unlock via wifi (Optional feature)
The lock connect to Tuya app via wifi. No need gateway to be bridge.
When someone press the doorbell, then you can unlock it remotely on Tuya app. No distance limited.
Send a dynamic password for visitors to unlock door, which is only work within 5 minutes;
Send a temperary password for visitors to unlock door, you can set the available time;
The Tuya app will record the door opening records in real time;
The tuya app will record the alarm in real time.
The Tuya app will show the lock power in real time.
TTlock app remotely unlock via Bluetooth (Optional feature)
TTLock is a global provider of solutions for smart locks. There are more than 25 languages in it. Suitable for apartments and hotels.The TTlock app can remotely unlock door via bluetooth, the distance is within 10m.
With the wifi gateway, the lock can connect to Internet via wifi. Then TTlock app can remotely unlock via wifi. No distance limited.
With the gateway, the lock can connect to alexa and google home.You can send the ekey to another TTlock account to unlock the door.
You can add the remote controller on the TTlock app. the remote controller is about 10m.  The lock has Passage mode, then it will keep open status;
The lock has attendance setting, you can use it to record the Company attendance;